Portable Media Players ** Test Page Only **

If you have a smartphone or a tablet, the entire Mediaseva archive is available for free streaming or download at the Virtual iPod page.
If your device accepts them, MicroSD cards and USB storage devices are available for purchase (see below).

If you need a player, here are some suggestions:



Option 1: Phantom Mini Player by Visual Land - $36 on Amazon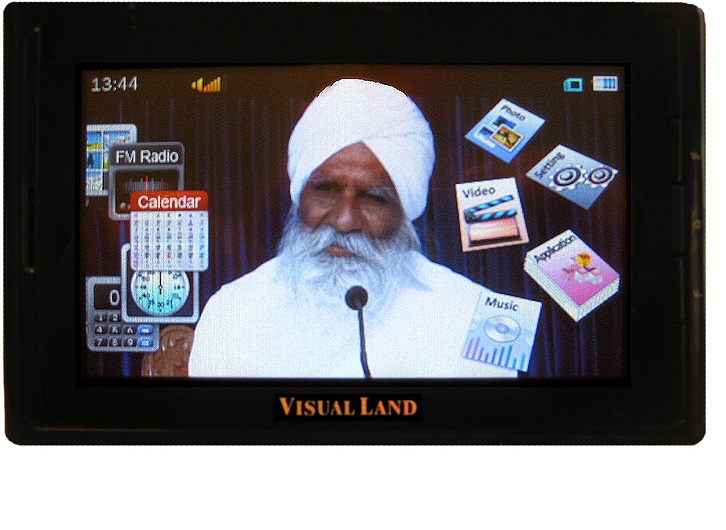 • 4.3" Diagonal screen with 8GB internal solid state drive - can store all Bhajans.
• Comes with clip-on stand and USB charging cable.
• Requires ($10) USB power supply if computer is not available to charge it.
• No WiFi - update from a computer. Cannot read PDF files.
• HDMI port will feed a widescreen TV. (Mobile-resolution videos look fuzzy on large screens.)
• Must be loaded with Satsangs from 32 GB MicroSD cards, which mediaseva can supply:
• Audio Satsangs only: Two 32GB cards: $26. Total = $62 (or $72 with USB power supply)
• All Videos, in 320x240 res: Four cards: $52. Total = $88 (or $98 with USB power supply)


Option 2: Mini Tablet by Prontotec - $47 on Amazon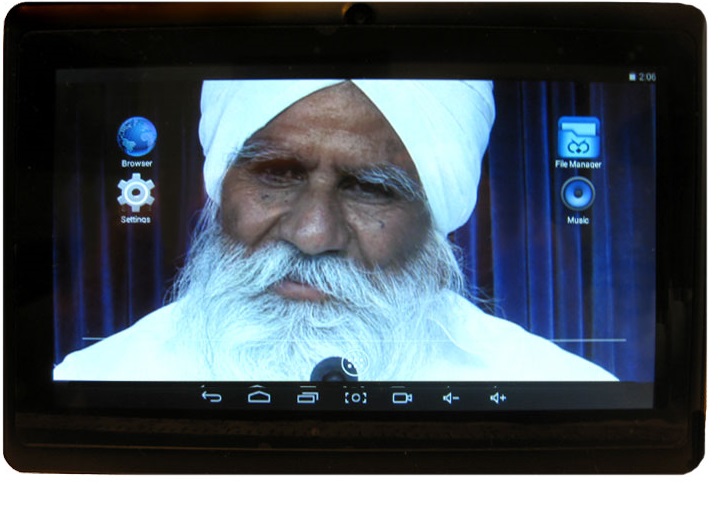 • 7" Diagonal screen with 6GB internal solid state drive - stores all Bhajans and Publications.
• Comes with AC power supply. You can use the USB port while recharging the battery.
• WiFi equipped. View the live broadcasts from Delhi, and stream Satsangs from the Virtual iPod.
• HDMI port will feed any widescreen TV at 720P resolution.
• Can play High Def videos and display Master's Books and Magazines clearly in PDF form.
• Works with a 2TB mini hard drive, just like a TV Collection, to play all the Satsangs in HD and SD.
• A 2TB drive with 1600 high-res videos costs $100. You can see the difference. Total = $147
• Or low res videos in either a 128GB thumb drive or four MicroSD cards: $52. Total = $92
Option 3: Full Size Tablet by DeerBrook - $109 on Amazon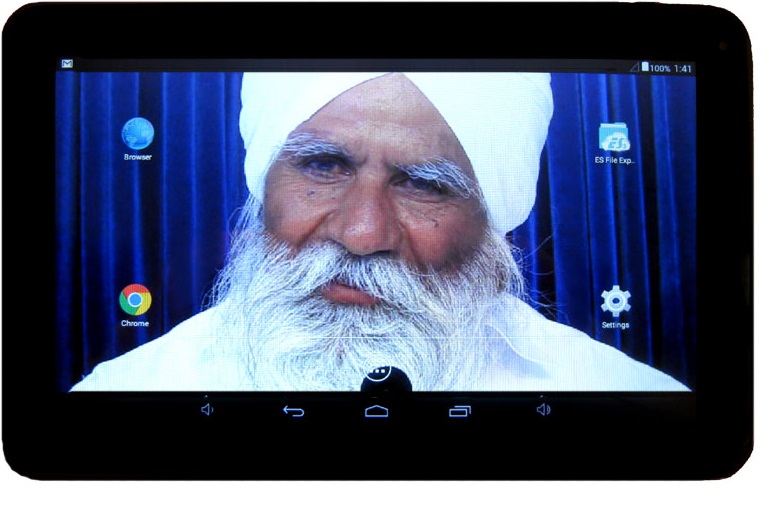 • 10.1" Diagonal screen with 16GB internal solid state drive - twice the capacity for storing Satsangs.
• All the features of of the Mini Tablet, but with many upgrades:
• Comes with AC power supply and two USB ports. Newest Android operating system, v4.4 is installed.
• Twice the battery life of the other two players - up to 6 hours, due to advanced processor.
• HDMI port can feed any widescreen TV at up to full 1080P resolution - the best we offer online.
• The larger screen is a bit more sensitive and easier to use.
• Books and magazines are even clearer and more comfortable to read vs. the Mini Tablet.
• Pricing for drives is the same as for the Mini Tablet.




Which to choose? Page Down for larger photos with dimensions.



If you want the most portable package, the small player is ideal, but you must purchase MicroSD cards to hold all the Satsangs.
If you prefer to stream all the Satsangs and view live broadcasts, without having to buy any extras, the Mini Tablet is the least expensive.
For the best battery life, best display, nicest features - without having to buy SD cards or other storage - the Full Size Tablet is great.
Any of these units compares well to similar devices at three times the price.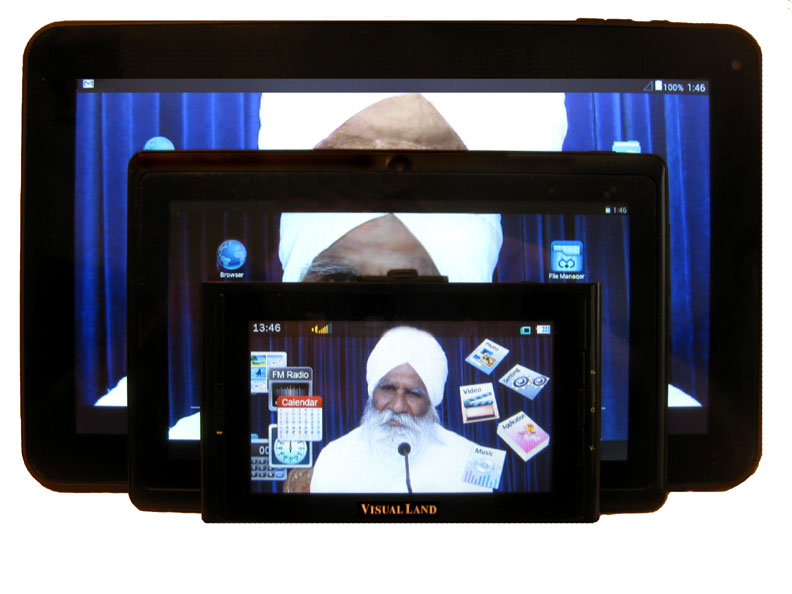 We can load your device if you find it difficult.

If you purchase one of these three units and ship it to us, we'll make sure it charges properly, works right, and we'll load the internal drive with 6 GB of Bhajans, photos (and publications if it's a tablet.) We'll install Adobe Reader,
simplify the Home screen, then send it to you, ready to use. There is no
charge other than shipping. If you have an Android tablet similar to the ones
above, with at least 6GB of available storage, we can likely prepare it in a
similar way. Please let us know when you contact us.

Prices for drives and MicroSD cards can go up or down without notice.
We'll confirm the current price by email.

Please contact us to confirm what you need, as per the steps below.
HOW TO ORDER - Four steps
STEP 1
E-mail the following information to mediaseva@gmail.com
1)Which unit you plan to have shipped to us, and if you need SD cards, a USB thumb drive or a hard drive.
2) The shipping address the finished player should be sent to. Signature will be required upon delivery.
3) Your telephone number and e-mail address.
4) Payment type you plan to use. We accept Paypal, checks, and major credit cards by sending you a Paypal invoice.
Do not send payment before your order is confirmed!! Prices for electronics can change quickly.
STEP 2
Mediaseva will confirm that we can process your order and give you payment details.
STEP 3
You send payment to Mediaseva for shipping back to you, as needed. Once we have replied, go to Amazon.com or similar suppliers to purchase the unit and storage devices (if needed). They can be delivered directly to Mediaseva.

STEP 4
We will confirm receipt of your payment. When the components arrive here, we will load and test the unit, then ship it. Signature will be required upon delivery. It should take two to three weeks from the date we confirm your payment until we ship your order.

ESTIMATED SHIPPING CHARGES:

USA and CANADA: $21 via insured FedEx Ground.

questions or concerns? contact mediaseva@gmail.com